Misa F 2
Classy blonde bombshell Misa F doing some lovely ass to cunt and ass to mouth perversion and getting off on it. Preview video not available yet.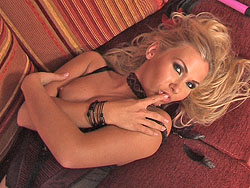 Misa F 1
Blond animal Michelle in solo action. She uses her fingers and a dildo on her pussy and fingers her anus, then licks her fingers clean, after that it's real orgasm time again.

Jana Mrazkova & Misa F 1
We only work with beautiful models and Jana Mrazkova and Michelle are beautiful. Jana Mrazkova was published in Penthouse magazine, now you can see her in kinky lesbian action with her stunning friend Michelle. In their first Femanic scene you'll see them in anal toy pleasure (including ass to mouth) followed by Jana Mrazkova fisting Michelle. She finishes it off using a dildo and Michelle comes screaming. Jana Mrazkova does an amazing amount of spitting and drooling, and after watching this scene you'll probably agree that nothing looks hotter than a spit covered pussy.

Jana Mrazkova & Misa F 2
Erotic lesbian action.